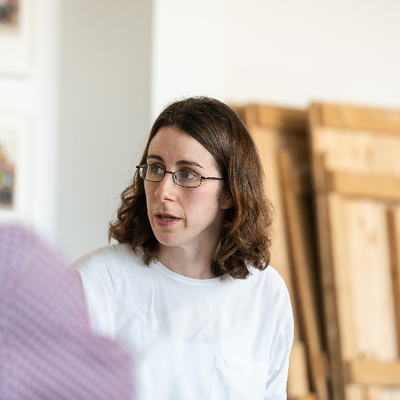 The DRN committee is run by a group of passionate defence and security researchers. Hannah West runs the committee as chair, closely supported by Dr Dan Leightley, Lucy Wray, Jemma Humphries, Ben Hodges, Emily Clifford, Lucie Pebay, Sally Coulthard.  
Former DRN committee members, Dr Sophy Antrobus, Clare Stevens and Allyson Edwards retain a valuable role in offering guidance and mentoring to the current team. We would like to acknowledge the hard work of Tomos Evans, Claire Lee and Jane Christie in helping to set up our network.
---
Get to know the committee and their current research areas. . .
---
'(Wo)man of war: A genealogy of women as counterinsurgents' Her research explores the tensions surrounding women's participation in counterinsurgency and what this tells us about 'combat'. Hannah's research is based on archival records and semi-structured interviews explored as a Foucaldian genealogy but she also uses creative methods to reflect on the gendered aspects of her own military service.
---
"British Army intelligence 1923-1940" My thesis uses prosopography to investigate how the army imagined, recruited, trained and developed the men and doctrine required for its intelligence function. It raises questions about professionalism, capability and perceptions of intelligence work. Ultimately it will assess how it performed during the challenge of war in 1940.
---
Jemma Humphries
University of Bath
Twitter: @Jemma_H41
Role: Website coordinator.
"The British army, Culture and COIN" My thesis explores the dissonance between how British army literatures and individual soldiers understood and used cultural knowledge and skills to conduct counterinsurgency operations in Iraq and Afghanistan. My research investigates how the organisational cultures of the British army may have contributed to this dissonance, analysing how different values and beliefs may impact on the acceptance and deployment of cultural understanding within counterinsurgency, and defence engagement operations in the future.
---
Dr Daniel Leightley
King's Centre for Military Health Research
Twitter: @DrDaniel
Web: www.leightley.com
Role: Website Coordinator.
Daniel Leightley is a Post-Doctoral Research Associate at the King's Centre for Military Health Research. His research focuses on the interface between machine learning and mobile health technologies, specifically focused on diagnosis, treatment, intervention and management of physical and mental health conditions in the Armed Forces community.
---
Dr Veronika Poniscjakova
University of Portsmouth
RAF College academic team
Twitter: @VPoniscjakova
Role: Events manager.
I am a Teaching Fellow at the University of Portsmouth based at the Royal Air Force (RAF) College, Cranwell. I joined the RAF College academic team in May 2019, having previously taught at the University of Nottingham where I only completed my PhD. I passed my viva in July 2019, and my thesis focused on the role of counter-culture in Israel. My doctoral research extended a theoretical framework developed by Pedahzur and Perliger on counter-culture. The aim of this PhD project was to understand how living in counter-culture influences communities; to find out these communities' characteristics and their attitudes towards political developments and their responses towards crises of political and religious nature.
My research interests include, counter-culture, civil disobedience, political violence, politics and international relations of the Middle East, Arab-Israeli conflict, right-wing political ideology.
---
Emily Clifford
University of Exeter
Role: Membership administrator and Newsletter coordinator.
I am a PhD student at the University of Exeter's Strategy and Security Institute, funded by the South West Doctoral Training Partnership through the Economic and Social Research Council. My work focuses on the Sahel, in particular taking a feminist post-colonial perspective on current military and humanitarian intervention in the region and women's experiences of it. I am also researching the Women, Peace and Security Agenda, with an eye to better understanding and addressing gender-based violence and sex trafficking in war zones.
---
Lucy Wray
Brunel University London
Role: Twitter manager.
I am a PhD Researcher at Brunel University London using Photo-elicitation to gather the personal stories of military to civilian transition. I am a registered Occupational Therapist and frame my around the activities, occupations, people conduct everyday and the meaning those occupations have.
Previously I have worked for a charity supporting individuals back into work, dementia care, worked in military mental health research and have been a member of the Royal Naval Reserve. My experiences have given me the professional aspiration to use research as a platform for the participant voice, in particular during periods of change and with the use of creative and accessible research methods.
---
Lucie Pebay
University of Bath
Twitter: @LuciePebay
Role: Secretary & Events manager.
Lucie Pebay is a first year UCAS funded Ph.D Student in Politics, Languages and International Studies. Prior to starting her PhD at Bath University, she earned a Masters in English Studies back in her home country France, and a Masters in Strategic Studies at the University of Aberdeen. Lucie's research interests include military intervention, military transformation and strategy. Her previous research project looked into the strategic relevance of interventionism through an analyses of recent French military interventions in Sub-Saharan Africa. She is now working on her thesis focusing on French strategic culture and military transformation.
---
Sally Coulthard, during her transition from a career in military education, training and personnel strategy, Sally completed an MSc in Social and Therapeutic Horticulture at Coventry University, graduating with Distinction. As a result of presentations on the masters programme, from the welfare and justice sectors, both using horticultural therapy effectively with military personnel, she recognised that it was culturally suited to a military cohort and was keen to increase access to this particular avenue of community based mental health support. Awarded a Churchill Fellowship in 2019, Sally travelled to Denmark and the USA to study best practice.  
As a  result of the Fellowship, as well as the experience gained by coordinating a Nature Based Therapy (NBT) pilot programme in Northern Ireland in 2019,  https://brookehouse.co.uk/our-services/defence-gardens-scheme-horticultural-therapy-programme/  Sally has founded the Defence Gardens Scheme (DGS) which is currently expanding to selected sites in England.   Further details of her research and DGS can be found at:  https://www.wcmt.org.uk/fellows/reports/defence-gardens-scheme-todays-and-tomorrows-veterans  
The DGS NI programmes have recently been awarded funding for delivery 2020-22 from the Armed Forces Covenant Trust Fund. These funded interventions will form the basis of further research and evaluation in the field of NBT and its potential mental health recovery benefits for the armed forces community.
Former Committee Members and Mentors
---
Dr Sophy Antrobus, @DrSophyAntrobus
Dr Sophy Antrobus lectures in history and international relations with the University of Portsmouth. She completed her PhD with the Department of History at the University of Exeter in November 2019 and is an Honorary Research Fellow with her former department. She has been researching the political fight for the RAF from its inception in 1917 to the end of the 1920s. Prior to her PhD, Sophy served for twenty years in the RAF, including on operations in Iraq and Afghanistan. She is a founding member of the Defence Research Network.
---
Clare Stevens, University of Bristol, Final year PhD student, @ClareStevens86, LinkedIn, University of Bristol profile.
"Clare Stevens is based at the South West Doctoral Training Partnership (SWDTP) and the University of Bristol. She is also an Assistant Teacher in Politics and Sociology and is completing an interdisciplinary Ph.D. thesis on the strategic use and misuse of cyberspace by state and non-state actors. Using the idea of "boundary work" as an organizing heuristic for her analysis, she is investigating  how the ways that U.S. state actors talk about cybersecurity and cyber operations are shaping or challenging understandings of "old" strategic concepts, social categories and boundaries."
---
Gavin Topley, University of Cambridge, 1st year PhD student, @gavtopley, [email protected], https://wavellroom.com/2019/09/06/wont-somebody-please-think-of-the-children/
Investigating junior soldier's perspectives on the social impact of the British Army policy of training child soldiers (16+). Particular focus on risk of harm trajectories and social mobility.
---
"Allyson Edwards is a final year doctoral candidate at Swansea University. Her doctoral thesis, "Russia on a throne of bayonets: Militarisation without the Military in Yeltsin's Russia, 1990-2000 was fully funded by the ESRC Wales-DTP and aims to solve the puzzle of how, why, and if militarisation of society and culture can proceed in the absence of a strong military, and what are the consequences of this process. Her research is based on extensive fieldwork in Russian archives and libraries. Allyson is a teaching fellow at Warwick University and course convenor of the history module offered on Warwick's International Foundation Programme."